LuJam Cyber was founded in 2014 when Tim Moran realised that small and mid-sized businesses need similar levels of cyber security to that enjoyed by major enterprises, but delivered in a way that was easy for a business owner or manager to use, without having to be an IT specialist. Four years and extensive trials later LuJam launched its Cyber Protection Service. The inexpensive subscription service offers a jargon free customer experience that gives visibility of all the devices connected to a network, while protecting it 24/7 against the latest cyber threats.
Introducing LuJam's Cyber Protection Service.
Designed to give you peace of mind.
Quick to install
Complements your existing anti-virus and firewall
Easy to use
Intuitive interface provides all key information at a glance
Highly effective
Gives you full visibility of your network while protecting it 24/7
How it works:
Monitors
Audits your internet connection and all the internet services being accessed by your network
Tracks which devices are using particular services
Logs the activity on your network for GDPR compliance
Detects
Automatically blocks ransomware, malware, phishing, zero-day attacks and more that bypass anti-virus and firewalls
Detects new devices connecting to your network
Spots unusual behaviour and trends
Your router
LuJam sensor
Plug and play simplicity – just plug the LuJam sensor in, and relax
You're protected
Protects
Enables you to ban or quarantine suspicious devices or internet services
Complements your existing anti-virus and firewall protection
Can support multiple networks
Optional VPN protects your mobile devices when away from the office
SMS Text and email alerts to potential issues

LuJam's Cyber Protection Service comes with an extensive support package including free telephone assistance with set-up, and initial threat assessment, and ongoing chat support.
Get protected!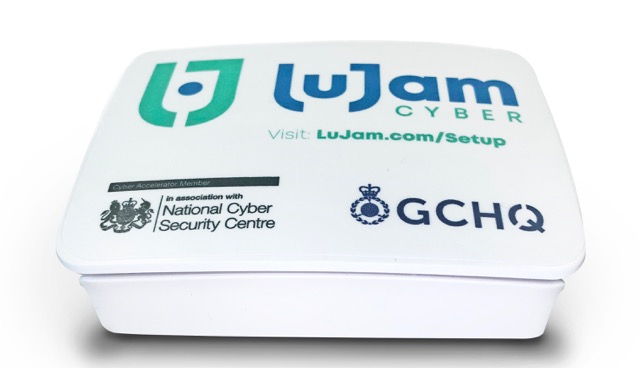 Read LuJams Technical overview here:
Download: Lujam Cyber's Technical Overview PDF

To find out more about how we can resolve your IT issues please email or call us:
Send us an email
Call us +44 (0)1462 416400