How to protect your web
Web security involves many components to ensure your cloud journey is a safe and successful one.
Web Application Security
Web application security is a central component of any web-based business. The global nature of the Internet exposes web properties to attack from different locations and various levels of scale and complexity. Web application security deals specifically with the security surrounding websites, web applications and web services such as APIs.
A web application firewall or WAF helps protect a web application against malicious HTTP traffic. By placing a filtration barrier between the targeted server and the attacker, the WAF is able to protect against attacks like cross site forgery, cross site scripting and SQL injection.
Web Content Filtering and security
Before we talk about DNS security, you need to understand the DNS. The domain name system (DNS) works like a phone book for the internet. When a user enters text into a browser, DNS servers take that input and translate it into the unique internet protocol (IP) addresses that let the browser open the desired site. But DNS protocols were never designed with security in mind, and are highly vulnerable to cyberattacks, such as cache poisoning, DDoS, DNS hijacking, botnets, C&C, man-in-the-middle, and more.
By redirecting users' web traffic through a cloud-based, DNS security solution, businesses and MSPs can finely tune and enforce web access policies, ensure regulatory compliance, and stop 88% of threats at the network's edge—before they ever hit the network or endpoints.
Browser Isolation
Traditional security solutions are reactive. First detect the threat. Then deal with it. But today's threats are too sophisticated, too dynamic, too fast to get caught. Networks are often infected before alarm bells go off.
BI eliminates all web and email security risks through isolation—providing the first truly 100 percent safe browsing experience. BI works by moving the fetch and execute functions of web browsing away from your network to our cloud-based platform. Only sanitized, nonexecutable content is rendered safely in users' devices—providing a safe yet seamless experience that is no different than before. Suspicious web forms—a common target for hackers—can be rendered in read-only mode, preventing anyone from entering their credentials by accident or on purpose.
CASB
CASB technology is the outcome of increased cloud adoption and the subsequent need to secure cloud services. They give businesses the ability to discover, analyse, secure and manage cloud activity across multiple networks and devices, whether users are on the corporate network or working remotely. They provide granular visibility and control over specific user activities and sensitive data.
Cloud applications, approved or not, are transforming the way users and teams communicate, share and collaborate. The threat landscape has changed – CASB is no longer a nice to have. The threats are wide and ever-changing:
Malware and cloud-only malware is increasing in volume and sophistication - targeting specific cloud apps.
Files in cloud shares have overtaken large scale breaches as the number one cause of data loss.
Almost 50% of cloud data breaches are the result of malicious or accidental insider actions within cloud apps.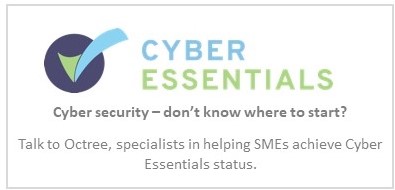 To find out more about how we can resolve your IT issues please email or call us:
Send us an email
Call us +44 (0)1462 416400